Manga may or may not be a theme but there sure are some good ones! So this week is manga.
1. Fullmetal Alchemist Hiromu Arakawa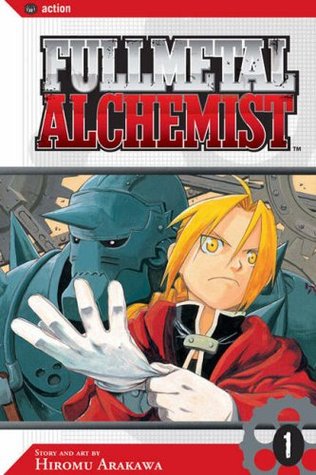 Alchemy: the mystical power to alter the natural world; something between magic, art and science. When two brothers, Edward and Alphonse Elric, dabbled in this power to grant their dearest wish, one of them lost an arm and a leg…and the other became nothing but a soul locked into a body of living steel. Now Edward is an agent of the government, a slave of the military-alchemical complex, using his unique powers to obey orders…even to kill. Except his powers aren't unique. The world has been ravaged by the abuse of alchemy. And in pursuit of the ultimate alchemical treasure, the Philosopher's Stone, their enemies are even more ruthless than they are…-goodreads.com
Hiromu Arakawa is SO good at making you feel emotions towards the characters, horror, anger, shock, sadness, really Fullmetal Alchemist as it all!
2. Fruits Basket by Natsuki Takaya
A family with an ancient curse…

And the girl who will change their lives forever…

Tohru Honda was an orphan with no place to go until the mysterious Sohma family offered her a place to call home. Now her ordinary high school life is turned upside down as she's introduced to the Sohma's world of magical curses and family secrets. -goodreads.com

Fruits Basket is another old one but still has those feels, it's a bit more romantic then Fullmetal Alchemist but still hits you with feels. I remember my sister and I laughing and crying while watching it.
3. Hetalia by Hidekaz Himaruya
In these hilarious comic strips, the world's powers take on ridiculous stereotypes. During World War 1, gruff Germany finds Italy hiding in a wooden box of tomatoes. World War I quickly comes to an end, but World War II is right on its heels! This time, Italy tries his best to become friends with Germany. -goodreads.com

Hetalia makes history pretty hilarious!
4. Scott Pilgrim's Precious Little Life by Bryan Lee O'Malley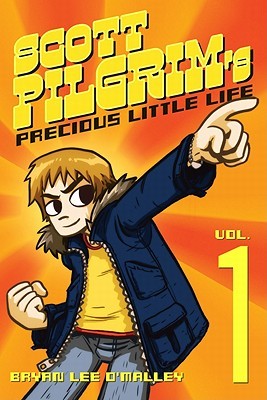 Scott Pilgrim's life is totally sweet. He's 23 years old, he's in a rockband, he's ""between jobs,"" and he's dating a cute high school girl. Nothingcould possibly go wrong, unless a seriously mind-blowing, dangerouslyfashionable, rollerblading delivery girl named Ramona Flowers starts cruisingthrough his dreams and sailing by him at parties. Will Scott's awesome life getturned upside-down? Will he have to face Ramona's seven evil ex-boyfriends inbattle? The short answer is yes. The long answer is Scott Pilgrim, Volume 1: Scott Pilgrim's Precious Little Life. -goodreads.com

5. Pandora Heartsby Jun Mochizuki  
Oz Vessalius, heir to one of the duke houses, has just turned fifteen. His life is rich and carefree, darkened only by the constant absence of his father. At his coming-of-age ceremony, however, everything changes. For no reason that he can discern, he's cast into the prison known as the "Abyss", only to be saved by a "chain" known as Alice, the bloodstained black rabbit. Why was he cast into Abyss, how does Alice factor into it all, and what does the organization known as "Pandora" want with him…? -goodreads.com

Do you like any of these manga? Or know of any other good ones? I would love to hear about them!