Brianna and I have been reading for a long time now and we've read all sorts of formats. Comic books, manga, children books, long stories and short stories. But what exactly is a novel? According to Google it is
A fictitious prose narrative of book length, typically representing character and action with some degree of realism
Yet, couldn't that be any type of book?
Going along with that definition, I would have to say the first novel I read is The Little Women stories by Susan Beth Pfeffer. Though I loved all the characters, I have to say my favorite to read was most likely Jo's story or Amy's. I can't remember which one so I'll give you Jo's Summary.
Tomboy Jo March would rather die than spend time with wealthy, proper Aunt March.  She'd much rather race against the boys at school or star in all the swashbuckling plays she writes.  But when Aunt March offers to adopt one of the March sisters to help ease the family money problems, Jo decides to make the ultimate sacrifice.  She'll tear herself away from her sisters and parents–the family she dearly loves–if it means they'll have a better life.  She's determined to become the perfect lady.  Now Jo has to convince her family that she's sincere about her decision by taking on a role that may be too difficult to act. -goodreads.com

The reason why I liked hers so much was because Jo was a tomboy. Something both my sister and I are, something our grandma complains about (jokingly) she always wanted girly girls so when she gets girls they have to be tomboys. Jo was cool, not to mention looked cool, and I loved her attitude, so that was my first novel.
Since Brianna can't exactly remember her first novel, she will share the novel that got her into reading to the extent she does now.
The Iron King (The Iron Fey #1) by Julie Kagawa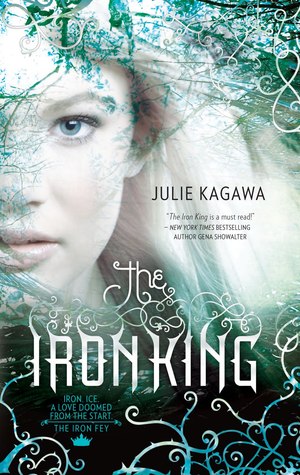 Meghan Chase has a secret destiny; one she could never have imagined.

Something has always felt slightly off in Meghan's life, ever since her father disappeared before her eyes when she was six. She has never quite fit in at school or at home.

When a dark stranger begins watching her from afar, and her prankster best friend becomes strangely protective of her, Meghan senses that everything she's known is about to change.

But she could never have guessed the truth – that she is the daughter of a mythical faery king and is a pawn in a deadly war. Now Meghan will learn just how far she'll go to save someone she cares about, to stop a mysterious evil, no faery creature dare face; and to find love with a young prince who might rather see her dead than let her touch his icy heart.-goodreads.com
This made me feel like that gif below.
And thus my love for reading ignited, thank you Julie Kagawa!
What was the first novel you read, or what book got you into reading? Let us know!