Wow it's week 6 already, boy does time fly. This time, thought, we will talk about books that make/made us cry. Seriously, these are some tear jerking stories.
The loyalty and devotion of a dog has no bounds

What a good dog you are. What a fine dog you are. Hachi, you are the best dog in all of Japan." Professor Ueno speaks these words to his faithful dog before boarding the train to work every morning. And every afternoon just before three o'clock, Hachi is at the train station to greet his beloved master.

One day, the train arrives at the station without the professor. Hachi waits.

For ten years Hachi waits for his master to return. Not even Yasuo, the young boy who takes care of Hachi, can persuade him to leave his post. -goodreads.com
Seriously this made me cry so, so much. Hachi is one dog who is way to cute for his own good, way to loyal, lovable. This book is full of so many feels that fact that this is based on a real dog makes it even more tear jerking than before.
The second book is the book that made Brianna cry the most, A Monster Calls by Patrick Ness. This story has really awesome pictures to help add to the book, and it really does add to it. The Monster is much more than he seems, and I really loved that. I know, this book isn't the saddest in the whole world but what happens to Conor and how he deals with it in the story are very touching, and sad. I felt like he was a kid going through a really hard time, and well, the way he deals with it makes me sad.
No spoilers here!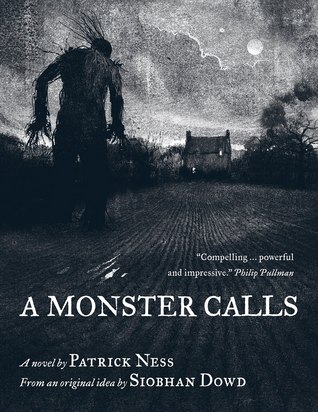 The monster showed up after midnight. As they do.
But it isn't the monster Conor's been expecting. He's been expecting the one from his nightmare, the one he's had nearly every night since his mother started her treatments, the one with the darkness and the wind and the screaming…
This monster is something different, though. Something ancient, something wild. And it wants the most dangerous thing of all from Conor.
It wants the truth. -goodreads.com

Oh and possibly good news to add to this post as well! Depending on how it turns out, A Monster Calls will be made into a movie, I am both excited and worried about how this will turn out. I loved the book, but making it into a movie? I can't really see it being acted but animated would be cool, however this book will be acted. Still excited, can't wait to see how it all turns out on the screen! Wishing for the best 🙂
What book makes you cry/sad?
A mini note: tomorrow Brianna's Interesting Tale will not post due to very slow internet, sorry!